Fraud Prevention Series: 5 Easy Ways to Protect Your Accounts
January 16, 2020

New year, new (and same) fraud tactics. To help you stay protected, we're kicking off 2020 with our Fraud Prevention Series. Start with these five tips to add additional security layers to your accounts.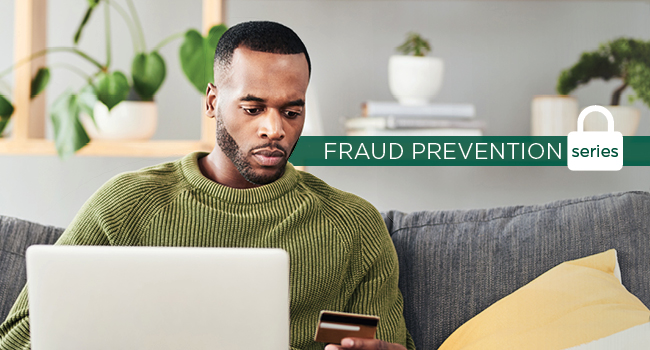 1. Check your account regularly.
Fraud can happen to anyone. The best way to ensure fraud doesn't slip through unnoticed is to look through your transaction history often. It doesn't take long to scroll through your transactions on your financial institution's mobile app. Consider doing this when standing in line at the grocery store or before you aimlessly scroll through your Instagram or Facebook feed. The faster you detect fraud, the faster you can have the charges reversed, block your card, and have a new card reissued.
2. Setup eAlerts and transactions notices.
Enroll in eAlerts and transaction notices. With a text message or email, you will know immediately if someone else is using your card number and can call MSUFCU directly to report the fraud.
3. Learn how to lock and unlock your cards.
To block your cards immediately, Visa Card Lock gives you card control at your fingertips by letting you lock or unlock your debit and credit cards in ComputerLine or the mobile app. If your card is lost or misplaced, you can simply lock it, then unlock it once it's found. By locking your cards, no one can use them to make purchases. Learn how to access this feature by watching this how-to video.
4. Know your fraud protection policy.
It's important to know what your card issuer will do if you notice fraud on your account. For instance, every MSUFCU Visa Credit and Debit Card comes with Visa's $0 Fraud Liability. This means that if your card or card information is stolen or lost, you won't be liable for any fraud on the card. MSUFCU also has Visa's Fraud Alert Management. You can verify the charges right over the phone, text, or email; or block your card if the charges are fraudulent. Fraud alerts are usually automated, so check and see if there's a number they will call from (MSUFCU Fraud Alert Management will always call from 800-294-2147).
If you ever think you might be talking to a scammer and not your financial institution, hang up and call your financial institution directly. If it was a legitimate call, they'll understand. Remember that there is no reason for your financial institution to ask for your entire Social Security Number, whole card number, or PIN.
5. Check any online shopping websites carefully.
nline scams are becoming more common as online shopping becomes more popular. Scammers take advantage of people by offering deals on electronics or other items that seem too good to be true. Then, they collect your credit card information and never send you the item. If you're buying online, always check the URL to make sure it's the store's correct web address. Scammers oftentimes recreate popular websites by using a slightly different URL to trick you.
With these five tips, you'll better prepared to prevent fraud. You know you're protected if fraud does happen, and you know how to check your accounts and identity clues that something is a scam. Want more information about your fraud protection or see fraud on your card? Contact us and we can help!
Tags: Fraud Prevention Series
---