Fraud Prevention Series: How to Avoid Black Friday Scams
November 10, 2020

Just like many events in 2020, a lot of Black Friday purchases will happen online. And fraudsters will be ready. Here are some of the ways scammers may try and take advantage of consumers shopping online Black Friday through Cyber Monday.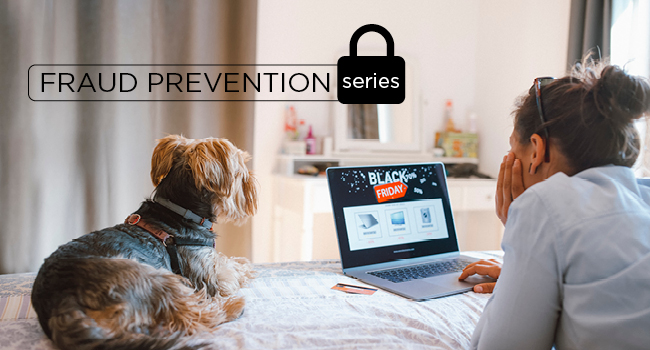 Online shopping is the norm
Online shopping has already become more popular in 2020. According to NuData Security, there was a 67% increase in online traffic from March 1 to June 30, 2020, compared to the same period in 2019. In November 2019, Cyber Monday exceeded the current record with $9.4 billion in sales, and it was the first year in history consumers spent more than $3 billion using smartphones, according to Adobe.
You do not have the same protections when you shop online as you do when you are in a store. For example, your EMV chip card protects you when you shop in a store, but when shopping online, that layer of protection is gone.
So, you need to be especially careful to protect your passwords and consider two-factor authentication, avoid using public Wi-Fi, and only shop with merchants you trust.
You should be aware of ways fraudsters may try to gain access to your accounts. This includes posing as merchants in order to collect your credentials. Another common scam is posting digital ads promoting popular products with great deals. When you click on the ad, you may also download malware that infects your device. If you see an irresistible ad, do your research before clicking, especially if it seems too good to be true.
You should also be suspicious of unsolicited emails, especially with attachments. Even if you subscribe to emails from your favorite stores, you should still be careful. Enter the business URL into your browser first and look for the deal on their website before clicking on the email. If it's not on their website, you will know it is a scam.
Scams can also happen on Facebook Messenger, WhatsApp, and other social channels. Be careful sharing or clicking any links for deals – even if it was sent from one of your friends. You should confirm your friend's account wasn't hacked and that they meant to share the message before clicking on link.
Following these guidelines can help you avoid being scammed. Happy shopping!
Tags: Fraud Prevention Series, Security, Tips and Tricks
---