On-The-Go Tips to Keep Your Accounts Safe
November 12, 2020

When you are out and about, you should not need to worry about security for your financial accounts. Here some ways to keep your accounts safe when you are on the go.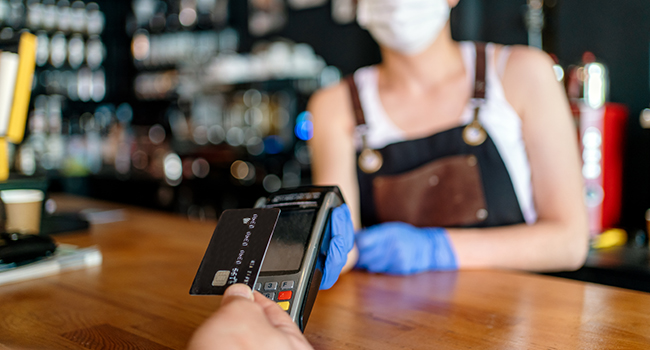 What forms of payment should I use when I am out shopping?
It's a good idea to use debit or credit cards as they offer protection against fraudulent charges if the card is lost or stolen. Check with your card issuer for more information about the service they provide to protect your accounts.
How can you make sure your financial accounts are safe, especially if you go out-of-town?
The most important thing you can do is contact your financial institution prior to your trip. Make them aware of where you are going and how long you will be at each destination. This will help to ensure any purchases made out of your usual geographic area are not flagged as possibly fraudulent and erroneously block your card.
Are there other safety measure to follow to protect my accounts?
While you are traveling, it is important to take other precautions, such as:
Be careful using public Wi-Fi. If you must do so, don't share any personal information.

Avoid using a public computer; if you need to, always make sure you completely log out of all websites and don't use it to pay any bills.

Don't tag your travel itinerary on social media while you're away, and wait until you are home to share trip photos. Fraudsters may track your movements and learn you have an empty house.
What can MSUFCU do to help?
MSUFCU offers several ways to make sure your accounts are safe and available to you when you are out or traveling. These include:
Travel Notes – Before you take a trip, enter your travel information via MSUFCU Mobile app or ComputerLine. You can also call or visit a branch to notify the Credit Union of your upcoming trip.

Card Lock – In the event you lose or misplace one of your cards, you can lock your cards right from your fingertips via mobile app or ComputerLine. Once you find your card, you can unlock it. If needed, a new card can be printed the same day at any of our branches or mailed to you.

CO-OP ATM Network – There are nearly 30,000 surcharge-free ATMs available to you throughout the U.S., Canada, and Puerto Rico via the CO-OP Network. To search for locations, use the MSUFCU Mobile app or website.
It's important to keep track of your credit or debit cards. In addition to keeping your cards safe, make sure to have secure passwords and know your card issuers so you can contact them if there is ever a problem.
Tags: Security, Money Management, Tips and Tricks
---