MSUFCU is Good for Your Business
November 3, 2022

Small businesses are vital for a growing community and economy. At MSUFCU, we strive to assist entrepreneurs and offer tools to help companies succeed. Read more to learn about how we help small businesses including Lansing's newest bookstore and café, Hooked.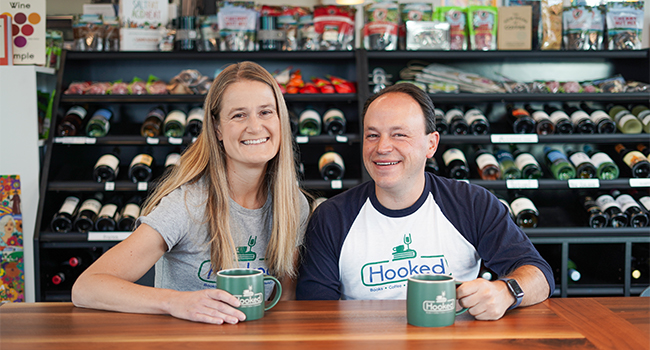 Hooked on Small Business Support
Hooked – new bookstore, coffee shop and wine bar at 3142 E Michigan Ave., in Lansing, Michigan – is one of the many small businesses MSUFCU has helped. Hooked's mission is to establish a local intellectual culture, guiding the Lansing region toward lifelong learning, building taste in enjoying the good life, and keeping up with current issues in a community conversation.
Hooked is owned by Matt Grossmann and Sarah Reckhow, MSU professors and MSUFCU members. They utilized the Credit Union's business resources to help accomplish their goals.
At MSUFCU, small businesses liked Hooked receive personalized, full-service support including business lending, loans, accounts, resources and more!
"One of the great things about the service we've had from the Credit Union is our business loan officer working with us through a lot of complexities," said Reckhow. "She was one of the first people in here buying a coffee and we have always known that we can go to her and that she is supporting our efforts."
Are you a small business owner?
Whether you are just starting out or have been established for a while, MSUFCU has the tools to help you grow and succeed!
MSUFCU's Good for Your Business promotion offers products, services, and tools you need to support your company's growth. We also provide a dedicated, full-service Business Services team whose members are ready to help you find the right solutions to set your venture up for success. Let MSUFCU help grow your business today.
For more information on how we can help your business, visit msufcu.org/business.
Tags: Community, Member Stories, CU News
---