The Lab at MSUFCU Helps Members Achieve Financial Success
August 19, 2021

To replicate the interaction a member might have with an MSUFCU employee through a digital channel, The Lab at MSUFCU was established to identify technologies and partner with fintechs to produce viable apps. Learn more about The Lab and the innovative solutions that have been introduced to help employees and members achieve financial success.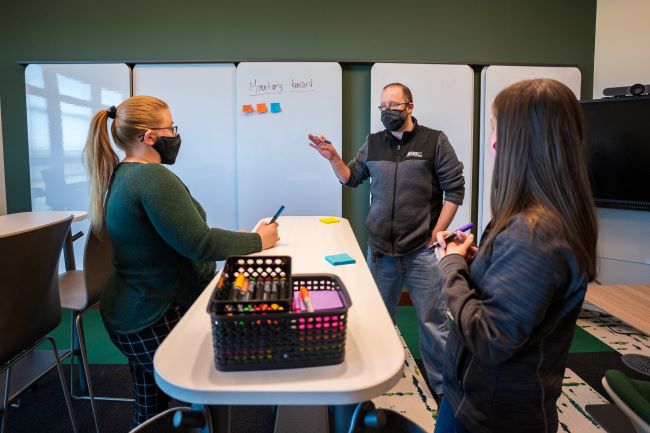 The Lab at MSUFCU is a center for innovation that brings agility, collaboration, drive, and innovation together to turn ideas into advanced financial technologies. By devoting resources to cultivating an entrepreneurial mindset, collaborative ideas are generated that lead to pilot programs for new technology, products, and services for our members and employees.
In The Lab, a team of cross-functional Credit Union employees, who have different roles and experiences, work together to innovate new products and services. Employees explore and test new opportunities before long-term investments are made. Members are then encouraged to be a part of the creation process and try these new innovations as they become available. This allows The Lab team to incorporate member feedback into their projects.
Lab projects now available to employees and members via downloadable apps include:
CVVKey: MSUFCU CVVkey™ was developed in partnership with Keyno to bring our members additional Visa Card security options. MSUFCU CVVkey™ allows members to securely enroll their Visa Credit with the app for one-time-use CVV2 codes to use while shopping online or over the phone. MSUFCU CVVkey™ is currently only available for Visa Credit Cards.
FinLife: MSUFCU FinLife was developed with Pocketnest, a Michigan-based financial technology (FinTech) company, to bring our members a more holistic approach to managing their financial needs and goals. Use this app to engage with your finances on another level through the education and guidance of financial planning experts.
Lab projects currently in the pilot testing stage:
ChangEd: MSUFCU ChangEd is a mobile app that helps members pay down student loans by rounding up everyday purchases and using the spare change to make additional payments. For example, if you spend $2.45 on your next cup of coffee, then $0.55 will be rounded up towards your student loans. Roundups help reduce your debt quickly and easily without you even noticing.
Financial Concierge: MSUFCU's Financial Concierge is a virtual assistant integrated into ComputerLine, the Credit Union's online account management system that utilizes a brief questionnaire regarding your financial goals. Based on your answers, you will be connected with a tailored mix of financial resources that can help optimize your financial well-being.
For more information about The Lab at MSUFCU or to become tester, visit msufcu.org/thelab.
Tags: Money Management, Tips and Tricks, Security
---