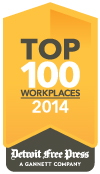 Working at MSU Federal Credit Union
At MSU Federal Credit Union, we strive to provide a superior level of service to our members and coworkers with every interaction. We look to continually improve, relying on each other to build a better organization together. Our positive environment stems from our desire to have fun and enjoy what we do every single day.
Employees have the opportunity to participate in a variety of events or programs focused on building a positive workplace, including:
An award-winning wellness program

Annual dinner to celebrate the achievements of fellow coworkers

Summer picnic for employees and their families

Halloween costume contests

Hula hoop contests

All employee meetings to learn about new products, services, or events

Volunteer opportunities with local organizations

Spirit days and March Madness basketball celebrations

Training and professional development opportunities

Opportunities to meet with our executive team
MSUFCU is an equal opportunity employer.
Employee Benefits
Along with a competitive salary, MSU Federal Credit Union also offers great benefits to its employees. Depending on employment status, employees are eligible to receive the following:
Health, dental, and vision insurance

Life insurance

Flexible spending accounts (medical and dependent care)

Long-term disability insurance

Paid time off

401(k) retirement plan

Employee assistance program

Educational assistance



MSUFCU is an equal opportunity employer.
MSUFCU Headquarters Building
Our headquarters building, located in East Lansing, is a state-of-the-art LEED® Gold-certified building which features the following amenities:
Onsite café featuring lunch specials, coffee drinks, and snacks for employees

Fitness facility

Wellness rooms
In late 2014, MSUFCU announced the expansion of the Headquarters. This expansion comes as part of the Credit Union's long-term growth strategy to meet the demands of its growing membership base. MSUFCU membership has increased significantly over the years, with an average of 5% growth each year. Increasing membership has led to increases in employees, adding many jobs to the local economy.
Construction is anticipated to begin in June 2015 and is expected to be complete in March 2017. The building is slated to be 186,350 square feet, including a basement and three floors, and will accommodate 564 employees. Read more about our HQ expansion project.